We may earn money or products from the companies mentioned in this post. Please see policies for more information.
This shop has been compensated by Collective Bias, Inc. and its advertiser. All opinions are mine alone. #SootheYourSoreSpots #CollectiveBias
My family loves the outdoors. Jared (and sometimes the boys) love fishing and I like exploring the area or relaxing near the creek. A camping trip usually means no electronics for us so it's a great time for me to catch up on books, memory keeping, and to play some games with the boys. So what do I pack in my camping bag (besides the basics like clothes, toiletries etc.)?
The first thing that goes in my bag every time is a first aid kit. Jared keeps a bag ready to go with things like a purifying water filter but I like to have small extra necessities, and fun items easily accessible to me.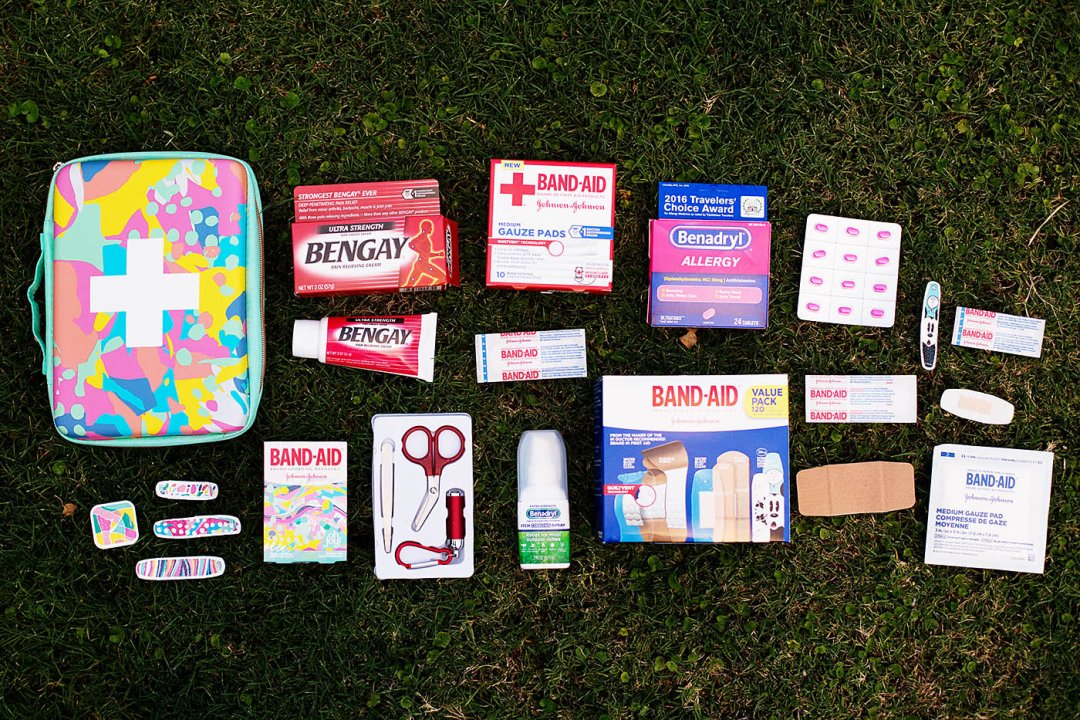 I am in love with this Oh Joy Bag from Target (free with the purchase of 3 participating Johnson & Johnson products). You can shop any of these items by clicking the image above! It's a perfect time to load up with some things I know we regularly use.
I picked up everything at Target to restock my own first aid kit and made sure to include:
BENGAY® Ultra Strength – camping means lots of moving around all day and sleeping on the ground so having something on hand to soothe those sore spots and to help temporarily relieve the minor aches and pains of muscles and joints is a MUST have addition to a camping first aid kit.
BAND-AID brand gauze and adhesive bandages (Oh Joy and Mickey themes ones a bonus)
Benadryl tables and spray
Scissors, tweezers, a little flashlight etc.
Pain reliever
Antiseptic wipes
Everything goes right into the bag and zips up perfectly to-go. I have to say, the BENGAY® products always get used the most. Between fishing, hiking, riding bikes and then sleeping on the ground, it's awesome to be able to get some deep, penetrating pain relief before drifting off to sleep under the stars. It makes for a much better morning!
Other things included in my camping bag are:
extra sunscreen (and lip sunscreen for me)
an extra pair of sunglasses (I can't tell you how many I've lost or broken)
cards
games – I like to bring a small cigar box to use for games with dice
a book – or two or three
cameras
my traveler's notebook along with embellishments and paper kept in a small pocket inside
pens
mini stapler and adhesive roller
a simple date stamp
ink pad
small scissors
sewing kit
picnic blanket or towel
Camping is the perfect time to scrapbook a few memories or even catch up on ones you haven't gotten down yet!
I even bring along the first aid kit and traveler's notebook on day trips. It's always a good idea to have a little project to work on while sitting creekside and you'll never regret having a first aid kit on hand.
Do you include BENGAY® products in your first aid kit too?!
©Johnson & Johnson Consumer Inc. 2017 The third party trademarks used herein are trademarks of their respective owners.